Checkout Rupali Ganguly and Gaurav Khanna's 'A CONNECTION' on the sets of Anupamaa!

Star Plus show Anupamaa is one of the most loved shows on television.
The show is loved massively by the audience and they cannot have enough of the drama. Currently, the premise of the same revolves around how Anupamaa has got a chance to be independent and is now pursuing her dreams. While initially Vanraj and Anupamaa were missed as a couple, Gaurav Khanna entered the show has Anupamaa's childhood love interest and the story only gets interesting hereon.
The audience is in love with how the two come across on screen and we guess the two bond amazingly well off the screens too. Producer of the show, Rajan Shahi often keeps visiting the sets of the show and looks like Rupali Ganguly and Gaurav bond very well off the screens so much that Mr. Shahi posed with the duo with a caption that read that they share an 'A' connect – Anupamaa and Anuj.
Take a look: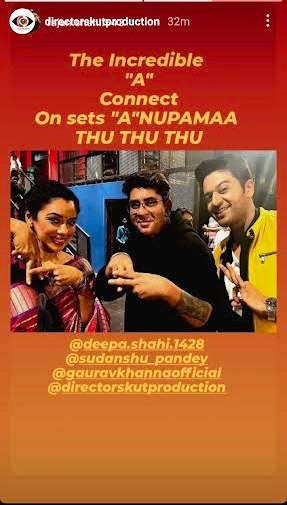 Now isn't that sweet? Show your love for Rupali and Gaurav in the comments below!
Also, how fond are you of Anupamaa and Anuj as a couple? Do you want to see them as a couple in the making? Do share your thoughts on the same!
Keep reading this space for more information from the world of television, Bollywood and the OTT medium.