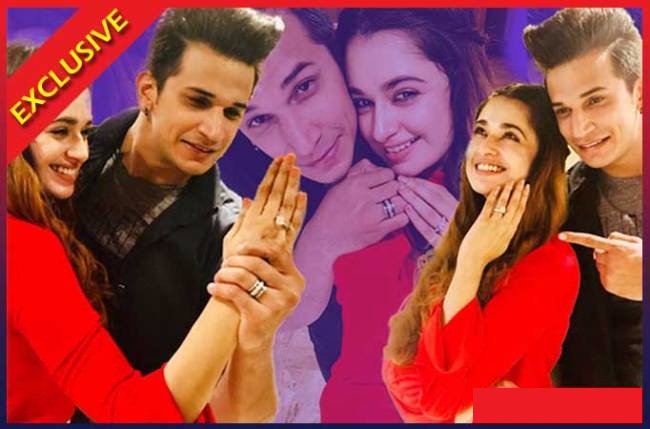 Yuvika talks about her "filmy" engagement with Prince

Mumbai, 24 January, 2018: business banking was the first to report about the dreamy couple Prince Narula and Yuvika Chaudhary being already engaged in February, last year. While the duo remained tight-lipped, our little birdies were adamant with the credibility of the news. What's more is that last night, the internet broke when the couple posted their engagement pictures on social media.
We have exclusively learned that the duo got engaged (once again and this time officially) yesterday on 23 January. The betrothal was nothing less than a filmy affair. And , if you don't believe this, hear it from the horse's mouth.
Actress, Yuvika Chaudhary is in a euphoric state at this moment. The blush on her cheeks is an evidence of their dreamy sponsalia. The lady has for the first time spoken about her engagement with business banking.
"Finally everything's clear. I cannot even realize that I'm not single anymore and I'm engaged. Now the whole world is talking about it and that is when it kicked me. It hasn't still synced with me, it will take time," the Bigg Boss 9 participant shared.
(Also Read: Prince – Yuvika call the makers of A Date To Remember UNPROFESSIONAL)
Apparently, just like the couple's love story, even their engagement is an exemplary narrative for a Bollywood rom-com. Yuvika revealed that she and Prince had a fight prior the engagement. "It was actually every filmy. After our fight, I thought this was it," she said.
Well, actually Prince staged a fight and that was because he has something really special in his mind!
"We went for a dinner where he brought all his and my family members. I was just perplexed and seriously confused. I was like why is he involving families in the fight; I just couldn't understand. Minutes later, on the dinner table he took out the ring. He planned all of this with my mom. And my mom was very much in support of him."
Yuvika reminisced that during the time of fight she often posted sad quotes. When she cribbed about this to her mother, who was involved in Prince's plans, she used to take his side. "My mom used to say that he is a good guy and always took his side."
Isn't that adorable?
(Also Read: Prince & Yuvika are already engaged; marriage on the cards)
On the marriage plans, Yuvika said, "Most probably year-end."
Prince and Yuvika will head to Dubai for a brief vacation post their espousal.