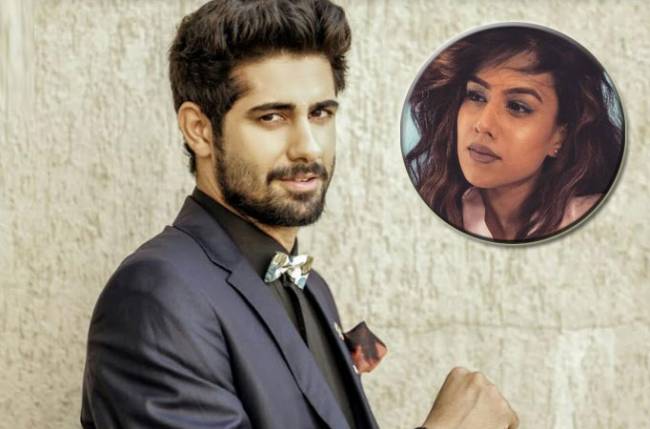 Nia is totally oblivious to her popularity, says Twisted 2 co-star Rrahul Sudhir

Rrahul Sudhir was an engineer before becoming an actor. Yes, like millions, even the tall lad had dreams and aspiration to be in front of the camera. However, his journey, as he says, wasn't that easy. The actor in his short span of career has already worked with some good names in the industry.
In a candid chat with business mortgage, the hot lad spoke everything starting from his journey to co-star to career. Excerpts:
1. Tell us a bit about your journey…
I would have talked about my journey had I reached somewhere; right now I am just a project old. The only journey for me was from Dehradun to Mumbai. It was a long road of hope and despair. It was filled with dreams. It required preparation, convincing parents, shattering belief systems and maybe taking a leap of faith. But how does it matter, nobody has had it easy especially in the film industry.
2. You chose to play a gay character in a web series. Weren't you sceptical about getting stereotyped?
Sceptical is a term that could be used for someone who has something to lose. I had nothing, neither an image or a persona or even money for that matter. I thought not many would want to audition for this role so my chances of selection would increase if I auditioned for the homosexual character rather than the main lead, which obviously had a long list of people way better looking than me and maybe more talented than me.
3. You've been doing some good projects. Where do you think you took the right decision?
If luck had to be given credit for it then how does it matter what decisions I took. In fact, there were no decisions or planning that went into it. I got a call from a friend who was casting for Maaya; they wanted a lawyer. Two people before me had rejected that part, I just wanted to prove a point so I just jumped on it and everything just happened on its own. I just played along and gave my best.
I still believe I am not in the right place, or maybe there is no right place to be in. As far as work is concerned, at a certain level I am still struggling to get the right parts or crack the right kinds of projects.
4. How was it working with Nia Sharma? Did she come with her baggage of popularity and experience or seniority for that matter?
Nia Sharma is a star, she has the ability to single handedly raise the morale of an entire set and simultaneously carry a project on her shoulders. To get a chance to work with her was just my (good) luck. She is a fantastic co actress and also very humble. She is obviously popular but Nia is totally oblivious to her popularity, so there is no question of having a baggage. Yes, she is definitely more experienced than me; I picked up a lot from her. But overall, I am glad she was my actress and I would definitely love to work with her again.
5. Namit, your co-actor, has come on TV. So, do you also plan to work on TV or are you satisfied with digital?
I believe mediums are only in our head. I never planned to become an actor for the web, it just happened. Also, I am completely open to all mediums –films, television or web – if I get a good project. At the end of the day, an actor just wants to act and maybe garner a little appreciation for his work.
6. Since you come from a completely non filmy background. What were the struggles you faced? At a time when nepotism and casting couch are the most discussed topics, did you have your share of experience as well?
Struggles were as real as they could be. I was rejected on almost all levels–sometimes I was told how bad an actor I was and some days I was just told that I was not good looking enough for the part. I have faced it all and also made peace with it at some level.
I am not against nepotism because that would sort of negate the whole idea of human emotions as someone would have for his/her loved ones. Eventually we all have to stand the test of the audience so nepotism isn't really a thought in my head, but at the same time, being an outsider, I have to work harder to prove myself or even to get noticed.
Luckily, I never met anyone who wanted to couch me as I am not big on favours just to get a job; I mean it is disrespectful towards our work if we have to sleep with someone for it.
7. Where do you see yourself in the future? What kind of work you aspire to do?
Honestly, I don't have a picture in my head for a future. I hope and pray it is beautiful and that is about it. We can't plan much here and that is the nature of our industry.
I would love to work with directors who are passionate about their work, people who are dedicated and absolutely devoted to making films/serials/web shows.
As an actor, I aspire to be someone who is able to convey thoughts, feelings and emotions to the audience and who knows maybe someday will be able to convey an idea.