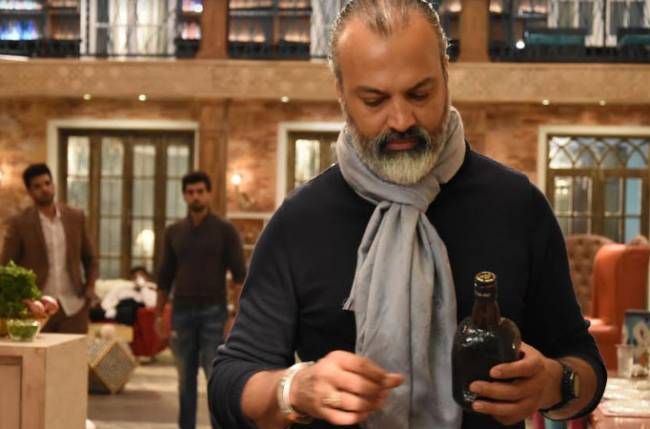 Karan Kundra's on-screen father Bijay Anand dons the hat of chef on the sets of 'Dil Hi Toh Hai'

It was an atmosphere of excitement and anticipation on the sets of Sony Entertainment Television's love cum family drama series 'Dil Hi Toh Hai' which premiered on 18th June. The entire cast and crew of the show gathered together to watch the first episode and it indeed showed the bond every present shared.
There was a special person on set who many didn't know could make some scrumptious. Everyone was in for a surprise when, Bijay Anand, a well-known yoga guru and an ace actor on the show surprised the entire cast and crew with some yummy food on the set.
It is said that a family that cooks together, sticks together and Bijay Anand did exactly that! Essaying the character of Karan Kundra's father in the show and for a sequence, the father-son trio i.e. Bijay, Karan and Akshay formed a group and got together to make the best dinner for the evening. The 3 men, indulged themselves in some serious cooking techniques which shocked everyone on sets. Being the eldest among all, Bijay took charge and instead cooked his secret chicken recipe for real on the sets.
In the first episode, there is a scene where no female members are present in the house and Bijay decides to cook with Karan and his brother. The secret to this recipe was replacing oil with wine which instantly became the highlight of the dish. The palatable wine chicken became a moment of celebration.
All the ingredients of the dish were made available on the sets, while Karan and his brother helped Bijay to cook the delicious chicken. The cast and crew enjoyed tasting every bit of this yumilicious treat.
On contacting Bijay Anand, he told us "As it was the first episode of the show it had to be fun. And what can be more fun than cooking something exciting. I enjoy cooking in my free time and chicken is one of my favorite dish. The flavor of wine in the chicken is like cherry on top of the cake. What can be a better combination than this? My co-actors appreciated the food and loved the taste. They insisted that I keep cooking for them more often.
For a chef who cooks for love, that's the best compliment!!"