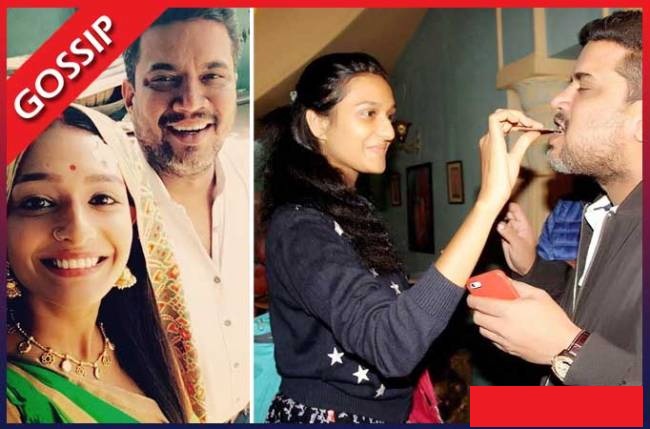 Is Aishwarya Khare dating Mansi Salvi's ex-husband Hemant Prabhu?

Mumbai, January 23, 2018 – Disclaimer: The entertainment industry is filled with gossipmongers and blabbermouths, who provide us with titillating tattles. As journalists, our task is to report about all the gossips by providing all the perspectives of the story. Stories that come under the gossip section are not cooked up tales but sagas without vindication.
Second chances are nothing but miracles when hope is lost. It isn't easy for someone to define the importance of second chances in life. Only a handful who've been lucky can talk about it.
Latest, rumor has it that, the wishful second chance has struck the sets of Saam Daam Dand Bhed. Ostensibly Hemant Prabhu who was earlier married to popular TV actress Mansi Salvi has found love again. A tale-teller from the sets revealed to us that the political drama's leading lady Aishwarya Khare is apparently in love with the ship's captain, the director of the show. Apparently, the whole set is discussing their alleged relationship. Hemant Prabhu, an otherwise stern director on the sets is quite fond of the lady, who plays Bulbul in the daily.
Another little birdie revealed, "They have just started going out with each other. After pack-up, they also leave together." After confirming with two other unnamed sources, we dialed Aishwarya to go through the crux of the story.
A perplexed Aishwarya laughed over the news. She said, "No way, not at all." Laughing, she continued, "Actually people might be talking about it because he (Hemant) doesn't really gel up with anyone on the sets. However, I'm very jovial in nature, so I go ahead and talk to everyone. I'm the only one he talks to on the sets." On inquiring her about the post pack-up escapades, she said, "That's completely made-up. I go my way and so does he."
Aishwarya refuted the rumors straight away. "I really respect him. It's completely untrue. I can't even think of it like that, even he won't," she said. Khare who made her debut in Vishkanya also shared that post the rumors Hemant might cease talking to her.
We couldn't get in touch with Hemant to know his side of the story. Whether or not something is brewing between the two, the grapevine is buzzing with their new camaraderie.