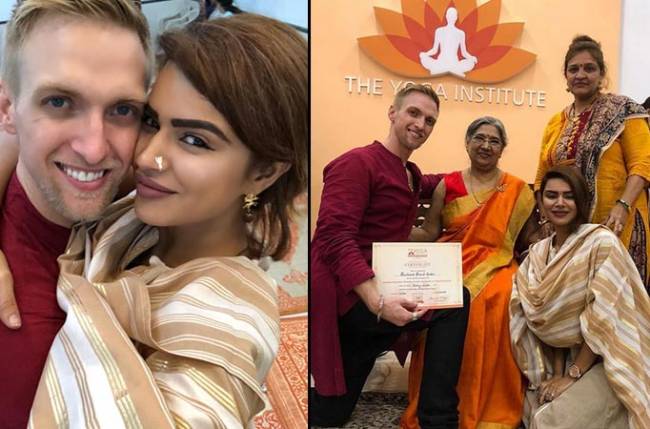 Brent introduces Aashka to the yogic life!

MUMBAI: Television's 'It' couple Aashka Goradia and Brent Goble are testing new waters and are legit pursuing their passions. Aashka recently launched her own line of make-up products and Brent, earlier an arms instructor by profession, who's moved to India for good uprooting his life in the US, took up a professional course to be a certified Hatha Yoga teacher.
The couple appeared together for the first time on a dance reality show last year and piqued curiosity for their cross-cultural relationship. The couple had both a Hindu and a white wedding late last year after which they both started travel blogging followed by Brent's inclination towards Yoga. Brent had been practicing Yoga in the US for the last 12 years and after moving to India decided to take it a step further by enrolling in a course.
Apparently, Aashka followed Brent's footsteps and started practicing yoga alongside her business endeavors. The couple, followers of Indian mahayogi and mystic Sadhguru, spent the weekend at Coimbatore at the Isha Yoga center.
Aashka shares, "It is soul evoking and mind numbing of an experience to be at 112-ft image of Adiyogi designed by Sadhguru. This Poornima, Brent and I started a new journey to dedicate all our spiritual ascents to yoga."
Brent further adds, "In growing as a couple, we have found that a yoga practice keeps us centered amongst our work and personal life. We are more focused and at the same time more accepting of challenges that arise daily. We are now enjoying deepening our practice through the teachings and wisdom of Sadhguru."