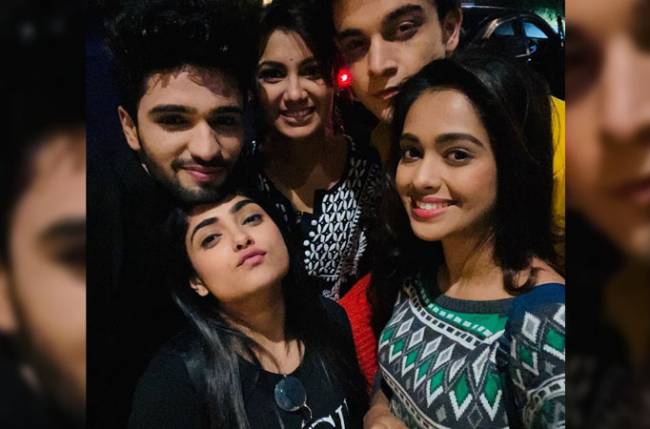 Mugdha Chapekar reveals a secret about the lesser-known Gucci Gang on the sets of Kumkum Bhagya

With the lockdown gradually lifting and people across the country stepping out into the new normal, Zee TV resumed shoots of its shows and it reconnected its audiences with the journeys of their beloved characters from 13th July. Kumkum Bhagya, which has been one of the most popular shows on the channel, also offered a rather interesting twist to its viewers after its comeback and has won their hearts once again. But little does anyone know about the emotional reunion that took place on the sets of the show post Lockdown.
The cast of Kumkum Bhagya including Mugdha Chapekar, Sriti Jha, Krishna Kaul, Aparna Mishra and Zeeshan Khan are quite close. While they started shooting in June itself, it was only in late July that all the cast members started shooting together. Earlier, some of the cast members were shooting separately as much as possible to keep contact with people at the bare minimum. But with some interesting sequences coming up, all the stars came together and the lesser-known Gucci Gang from the Kumkum Bhagya set had a mini reunion. Yes, the popular TV series' cast members have a small group called the Gucci Gang and the reason for its unique name is quite intriguing.
Talking about the reunion, Mugdha Chapekar who plays the role of Prachi in Zee TV's Kumkum Bhagya revealed, "Meeting everyone after the Lockdown was really emotional and we all were ecstatic at the Gucci Gang's reunion. Not a lot of people know but our Gucci Gang is a close-knit, 5-member team including myself, Krishna Kaul (Ranbir), Sriti Jha (Pragya), Zeeshan Khan (Aryan) and Aparna Mishra (Shahana). We all chill together on the set whenever we are shooting and this Friendship's Day, we had a blast celebrating together."
Speaking about the unique name, Mugdha further added, "Krishna and Zeeshan started calling us the Gucci Gang after hearing the song of the same name by Lil Pump. It was a song that we used to play a lot in our vanity vans when it was released! It also kind off became our secret password, so yeah, we keep having some or the other fun on the set of Kumkum Bhagya and that's how we keep going, especially in such testing times."
While the stars keep entertaining each other, wait till you see the twists and turns in the life of Abhi, Pragya, Ranbir and Prachi in the upcoming episodes.
Tune in to Kumkum Bhagya every Monday to Friday at 9:00 pm, only on Zee TV!