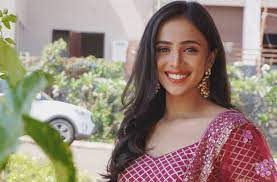 Exclusive: I call Sehban "bhai" in real life as well: Spy Bahu's actress Sayli Salunke
MUMBAI: Colors has launched a new show Spy Bahu starring Sana Sayyad and Sehban Azim in the lead roles. The story of Spy Bahu is lead-centric and depicts the love story of a detective and a terror-suspect.
Spy Bahu is bankrolled by Ashvini Yardi under her production house Viniyard Productions.
TellyChakkar got in touch with actress Sayli Salunke, who spoke briefly about her character, bond with the cast, and more.
What character are you playing in Spy Bahu? "I'm playing Yohan's younger sister in the show and my character name is Drishti. Yohan and Drishti are very close to each other. Even though Yohan's character is a bit stubborn, he still obeys Drishti. I don't know if this is a positive character entirely, but I can't disclose much about it."
How much do you relate to your character? "It's been two months since I'm playing this character; I really feel very good shooting with my co-actors. I feel very connected to my on-screen siblings. I call Sehban "bhai" in real life as well. They always make me feel protected on-screen and offscreen as well."
How much do you connect with the other characters on the show? "I've worked with Ayub Sir and Parineeta Ma'am and it's delightful. I address my on-screen mother as "didi" in real life. And even though it's just been 2 months, our bond is quite good. I initially felt that Ayub Sir would be very strict but he's very jolly in real life, in fact I'm the youngest on the show and still it feels like he's the youngest. I haven't got such a supportive cast in the past. Sana is very sweet and bubbly in real life as well."
How do you feel about being a part of such popular shows till now? "Both the shows are very close to my heart, because Mehendi Hai Rehne Wali was my first TV show and now Spy Bahu. Earlier, I used to work in regional shows, so I'm loving my journey up till now."
What kind of roles do you wish to play? "I don't have anything in particular, I just want to be a versatile actor and I want to keep learning. I want to keep exploring and I don't even mind playing a negative character."